Calendar of Events
Where:
Cornell University Cooperative Extension
50 West High Street -- Ballston Spa, NY 12020
When
:
We usually meet once a month on a Sunday from 1:00 pm to 4:00 pm. See "Upcoming Meetings & Programs" below for list of events and scheduled dates. Our members receive an email in advance with meeting/program details, actual date and location.
Cost:

FREE for Chapter Members. $3.00 Requested donation at the door for non members. (We encourage and invite guests to join our group, and will happily apply their $3.00 to the $15.00 Annual Mohawk-Hudson Dowsers Membership).


Directions: From I-87 take exit 12 (Route 67 West) into the center of Ballston Spa, then turn left (still route 67) onto West High Street. The modern style building is a couple of blocks down on your right.
Upcoming Meetings & Programs
The Vibrations of Essential Oils & Healing with Aromatouch - Patty Matthews

and Sonya Babinbeau

Where: CM School of Fine Arts, 17 Executive Park Drive
Clifton Park, NY 12065

When: Sunday, October 18, 2020 1:00 - 4:00 pm.

Nikola Tesla once said "If you want to find the secrets of the universe, think in terms of energy, frequency, and vibration." As dowsers, we work with energy and are aware that each thing has a specific vibrational frequency. When we are healthy are vibrational levels are high. When we are ill or have dis-ease our vibration is low. Clinical research shows that essential oils, with the highest frequency of any natural substance known to man, can create an environment in which diseases, bacteria, viruses, and fungi, can not live. Essential oils provide a natural, gental way to restore our body's healthy electromagnetic vibrational frequency. Learn how to dowse which essential oil is best for you to use, as the frequency of an essential oil depends in part on what kind it is and its quality. Poor quality essential oils may smell good, but they will lack the medicinal or vibrational frequencies of pure essential oils. Discover how the subtle presence of essential oils can resonate with the body's energy to help restore harmonic health and well-being.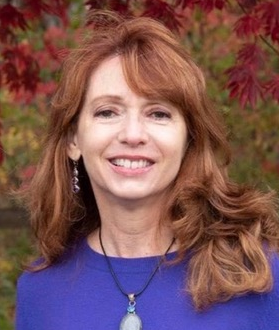 About: Patricia Matthews
owner of Essential Health Solutions - Certified Holistic- Functional Nutrition Coach -Personal Trainer-Reiki Practitioner-Essential Oil Specialist. As an Aromatouch Technician and Symphony of the Cells Practitioner, she offers clinical Application of Essential Oils to reduce pain and inflammation, boost the immune system, balance the nervous system, and allow the body to heal. She helps people find the root cause of their concerns and guides them to natural solutions to put their
b
odies
b
ack in balance. Patty can be reached at:
http://PattyMatthews.com/
EssentialHealthSolutions4You@gmail.com
(518) 641-8121.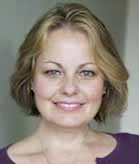 About Sonya Babinbeau: Sonya is

intuitively helping people find synchronicity with the guidance of tarot, runes and numerology. She offers

Tarot Card Readings, is a dowser and is the Community Enlightenment Program Event Coordinator at Cosmic Affirmations

.




Past Events & Programs

Stonehenge? In Vermont?
August 15 - 16, 2020. An
amazing day in an environment reminiscent of Ancient Ireland or Scotland right here in New England. We start this epic journey at Dream Barn Hollow, the home and gardens of our member, Alice Harwood, at 2868 VT Rt 11 West in Chester, Vermont. Sunday morning at 9:30 am, Alice (Diviner and Quantum Energetic Change Agent) will provide tea from her magical gardens and guidance for this experience.
Our first stop will be "Calendar One," a womb of intention and creation. Here we will listen deeply to our Souls loving voice and assimilate the frequencies of a future that aligns with the Highest Good for all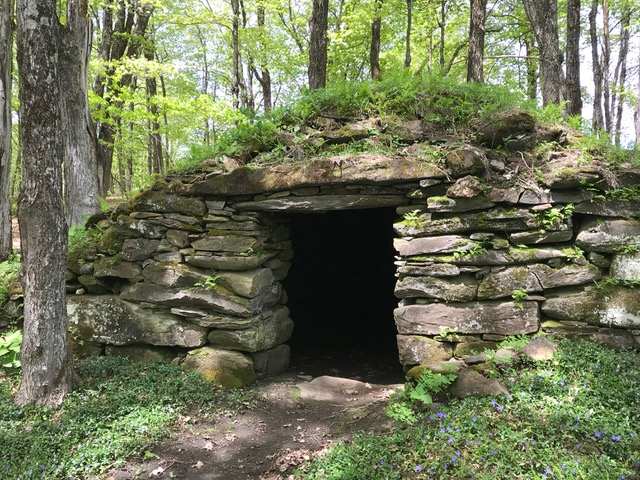 humanity.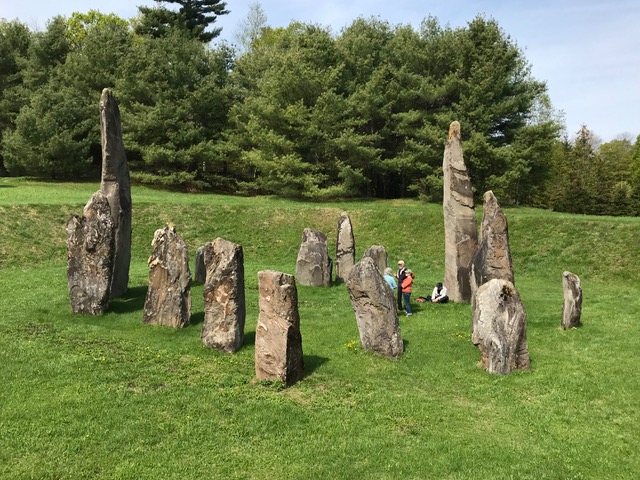 Stone Circle where this energy will be amplified throughout the world and cosmos. Alice will lead us through an energy integrated protocol that expands personal and collective consciousness and activates dormant DNA. Bring a small gift/offering (tobacco, flowers,
chocolate etc.) for the Genus Loci and Guardians of the circle. Upon returning to Dream Barn Hollow, we will continue to perfect our Diving practice throughout the gardens and connect with the Elementals, sharing our stories and experiences (and perhaps a cup of soup) around the fire pit. For providing this all day workshop using her intuitive divining and guidance, Alice is asking for a $55.00 donation for the day and if you stay over, a donation of $60.00 for lodging and breakfast. Dream Barn Hollow is a 2-hour drive from Ballston Spa, (approx. 100 miles), about 20 minutes from the Okemo Resort Areas and 45 minutes north of Brattleboro VT. It is owned by Space Inc., a 501(c)3 non-profit. Contact Alice at 802-875-1717 or dreambarnhollow@gmail.com.

Plant Walk with Herbalist Amy Cason - July 26, 2020,
at Bog Meadow Brook Nature Trail, Saratoga Springs, NY. We met at the Route 29 Entrance:

From downtown Saratoga Springs: Take Lake Avenue/Route 29 east from the city. Go through the traffic light at Weibel Avenue. The trail entrance will be about 300 yards past the light on your right. From I-87: Take exit 14 and head west on Union Avenue, towards Saratoga Springs. At the first traffic light make a right onto Henning Road. At the intersection/light with Lake Avenue/Route 29, make a right. Go through the traffic light at Weibel Avenue. The trail will be about 300 yards past the light on your right.

We stopping to identify herbs and plants available in the summer. Learned foraging basics, sister plants and ethical wildcrafting. Discusseduses for herbs in our daily lives and how herbs have the ability to help us on every level of our being.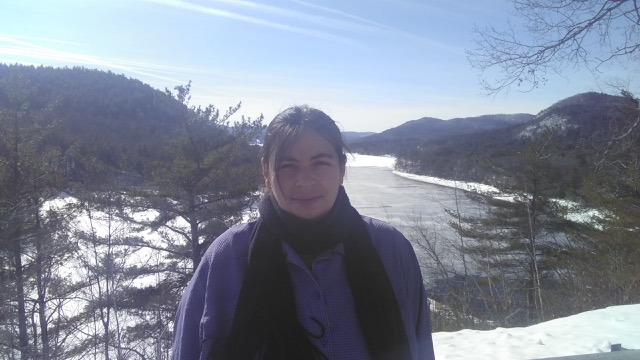 About Amy Cason, herbalist: "For over 12 years I have studied herbs, the role of nutrients and how the body functions. Combined with the basics knowledge becomes an amazing guide to vitality. I focus on traditional food and using a variety of herbs from around the world to support the nutritional needs of the body on every level. I created Thyme in a Bottle 4 years ago to offer classes and consultations to individuals looking for a natural and nutrition based approach to health. I am passionate about providing people with the tools they need to create a sustainable happy healthy lifestyle. Contact me at AmyCasonADK@gmail.com or find me on Facebook at Thyme in a Bottle! "
How Your Health and Herbs Can Allow You to Be A Better Dowser with Amy Cason
. March 15, 2020. Learn how the health of the nervous system and the lymph system affect your sensitivity levels. Get a simple broth recipe that will optimize the electrical conductivity of each cell allowing vibration to be easier to detect. Learn about herbs like Lycii (also called wolfberry and goji berry) that nourish the energy system of the body, and others like Damiana that allow energy and nerve impulses to more readily spread throughout the body. About Amy Cason: Amy Cason, an herbalist, created "Thyme in a Bottle" 4 years ago to offer classes and consultations to individuals looking for a natural and nutrition based approach to health. She is passionate about providing people with the tools they need to create a sustainable happy healthy lifestyle. She can be reached at AmyCasonADK@gmail.com or on Facebook at Thyme in a Bottle!

A Day in the Life of the Tensor Field, Presented by Virginia Houck, LMT,
Local Distributor of Light-Life Tools Sunday, February 19, 2020.
Within a Tensor Ring is an infinite source of energy that is beneficial and healing to all life forms. It brings coherency to chaos, and stabilizes the energy fields of the body. The Tensor Ring is used in healing, energizing and restructuring of water and plant life, diminishing air, water and soil pollution as well as increasing spiritual awareness. Sacred Geometry meets Quantum Physics! Through the use of ancient cubit measurements Slim Spurling rediscovered the Tensor Ring Technology in 1991. Hans Becker, an astrophysicist and friend of Slim's tested the tools and found the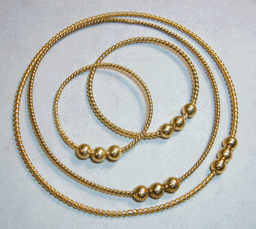 sacred cubit to oscillate at 144 MHZ, a harmonic of the speed of light. "When you create a closed loop coil, energy begins to flow and the laws of physics go out the window " giving us an efficient source of life force energy. Virginia will explore this technology through hands-on learning. We will explore the tools wide variety of applications for healing ourselves and the environment-a wonderful opportunity to be exposed to many different tools and their effects on us as a group. Virginia will have tools available for purchase with cash, credit card or check.
About Virginia Houck: Virginia is a 1989 graduate of the NM Academy of Healing Arts. She has been using her skills in private practice in Colonie, NY for 30 years offering Massage Therapy, Zero Balancing and sessions with the Light-Life Tools. Private Consultations on the tools are also available. Virginia took numerous workshops with Mrs. Spurling as well as with the co-inventor of the tools Bill Reid. She was in frequent contact with Bill for many years until his recent passing. He was a wonderful source of tool information for her.

She also initiated the

Clearing the Air Project

12 years ago and oversees the activation of Environmental Harmonizers for diminishing air pollution. For more information visit her website

WellnessEssentialsNow.com

or contact Virginia at 505-469-4174 or

wellnessessentials@msn.com
Healing with Light with Albert Fissette,
Certified Light Therapist
-
J
anuary
19,
20
20

.
We are all light beings

!

"

Light

"

is a name for a part of a spectrum called the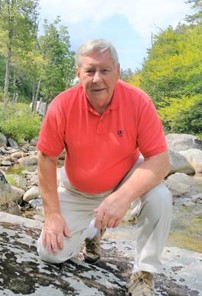 electromagnetic spectrum.
Light therapy consists of exposure to specific wavelengths of light administered for a prescribed amount of time and, in some cases, at a specific time of day.

The

l
ight falls onto

an

affected area and a cascade of events take place, including increase

d

blood flow and oxygenation

,

a feeling of instant relief of pain or pressure in the effected or inflamed area

;

a sense of well being that can last for days. There are no side effects and it is non-invasive. Very specific sequences of light pulses activate certain sub-cellular systems. This increases the production of collagen and elastin.

Every cell in your body needs a photon to stimulate it in order to be productive in cell repair and reproduction. Light therapy aids in healing bruises, torn muscles, pulled ligaments, arthritis, acute and chronic pain. Al will be showing us various devices he uses including a Spooky2 machine, which finds harmful bacteria, viruses, worms, and pathogens by looking for vibrations not normally found in the body. Once found, it lists these in a table. You can then search these in a medical encyclopedia, select them, and put them in a program to eliminate them. There are 55,600 frequency programs in the machines archive. Al has worked with Lyme, Cancer, Dementia, Parkinson, and Neuropathy clients. Al did a biofeedback on himself, and found he needed about 13 hours of treatment. He slept with the transmitter and receiver on either side of the bed in the spare bedroom for his treatments. Al reran the frequency evaluation and everything he had that was out of balance, was gone. His frequencies were now in balance. Al's clients have found Cancer cells, different types of Herpes, Legionnaires disease, Lack of basic vitamins B2, B3, B6, D and K; Cat scratch fever, Rat bite disease, Eye infections from contacts, STD and HIV, Rocky Mountain spotted fever, Tumors and cysts.

About Albert Fissette:

Albert owns Light Therapy Services, which is shared by his wife, Joan Ann, a Master Hypnotist, and his daughter who is a Reiki Master and Medium. Albert got into Light Therapy by accident when a 50-60 mile an hour wind blew an industrial umbrella into the right side of his face about a quarter of an inch under his eye. Al went to
emergency services, where they did an ultra sound. They said there was no infection, but the doctor said he had never seen a bruise this bad. The doctor told Al it could heal in three or four weeks, if not he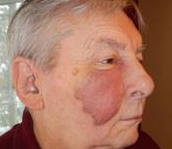 might need a plastic surgeon to correct any under lying problem. Not wanting his face cut open -- killing nerves and cutting facial muscles, he began researching ways to heal. Four weeks later Al went to his own Doctor who said the same thing. Three weeks later Al went to the plastic surgeon his doctor had recommended and brought him a MRI of the wound. The plastic surgeon said the same thing, adding that before he operates he wanted Al to see an eye surgeon. Al's eye doctor is also an eye surgeon. She commented on his face and he told her he had found out about light therapy thru research online and had ordered an infrared light therapy pad. She said, "use it you might be surprised with the result." Six weeks later his face was all healed including the broken vein.
Both Al and Joan Ann are Certified Light Therapists, through Quantum Academies in Beverly Hills, Ca.. Al can be reached at Light Therapy Services, 55 Longkill Road, Suite 2, Ballston Lake or you can visit his website Lighttherapyservices.com or email al@lighttherapyservices.com or call (518) 526-5012 or (518) 709-7406.
---
Revealing Secrets of the Human Aura Through Auric Photography - Lorna Reichel November 17, 2019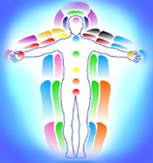 An Aura is the field of energy that flows through and around you, and all living organisms & objects. Your Aura is a map to the current health of your body, mind & spirit. It contains information about your physical, mental and emotional condition. Everyone should be aware of the types of energy in their energy field, so they can maintain their health, correct any stressed or imbalanced areas, and avoid dis-ease. See actual photographs of "auras", learn the secrets of the human aura and what different colors (frequencies) reveal about a person's health. Join Lorna Reichel as she explores auras, the power of intention, and gives you an opportunity to experience first hand, YOUR ability to change energy and the color of your aura. Lorna will have a nice selection of crystals, a few photos and her book, Unseen Worlds of Subtle Energy, available for purchase with cash or check. About Lorna Reichel: Lorna applies 25 years experience with bio-energy, healing, and training in the Biofield Sciences to empower clients who want health, a safe environment, and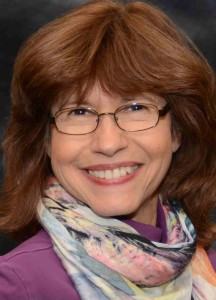 to realign with their highest potential & ideals. A Biofield Wellness Consultant and Aura Imaging specialist, she works with the subtle energy of people, places, and things to balance the body, mind, and spirit. She uses dowsing as well as meters, when she performs EMF Home Surveys, to identify unhealthy EMFs, dirty electricity, and geopathic stress. Lorna provides new perspectives of reality that empower, inspire & facilitate self-actualization. She received her MFA degree in Photography from SUNY at Buffalo, and Certification in RFI, Kirlian Photography and PIP Biofield Imaging from the Centre For Biofield Sciences and Centre for Human Energy Field Research (CHEFR), UK. Her interests include researching patterns of thought, and the shifts that occur in the "Auric Field" when people use their intention to clear and balance their energies, and for healing. Her research shows us we are more than our physical bodies. Lorna is a crystal keeper, photographer, videographer and the author of UNSEEN WORLDS OF SUBTLE ENERGY: Exploring and Verifying Energy Using Auric Field Photography. Lorna has a private practice in Clifton Park, NY. For more information visit her website

www.lornareichel.com

or contact Lorna at (518) 383-9066.
Heal Yourself to Heal the World with Roxanne Louise - Oct. 20, 2019
In healing ourselves first, and then through intention to offer that healing telepathically to others, we create a powerful tsunami of positive change. What you think and feel not only guides your actions but also effects me through the principle of Quantum Entanglement. That is good news because in healing ourselves we help others to heal as well, who then help others, rippling through the pond to make a very, real difference. Come and learn simple exercises on how to get started.

About Roxanne Louise - current President of ASD,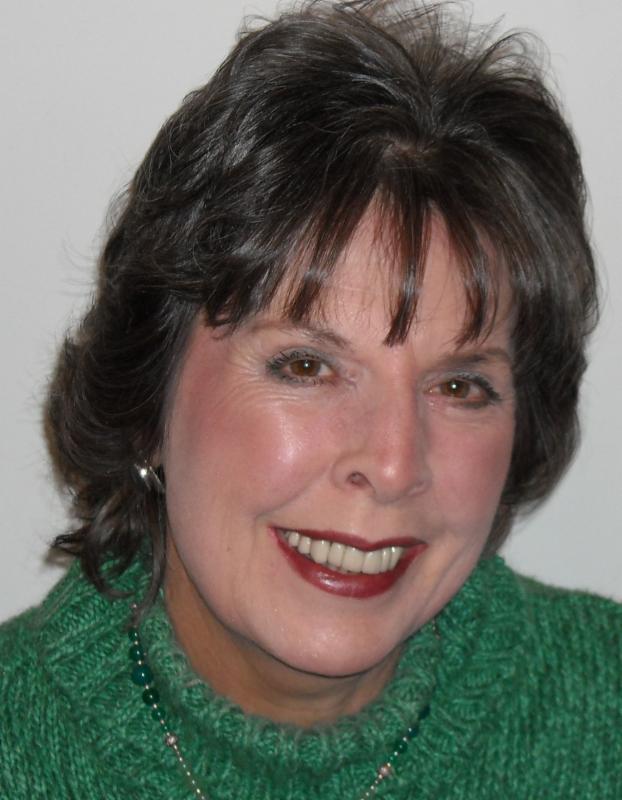 long time dowser, hypnotherapist, stress management expert, and Reiki Master, who presents at the ASD annual convention, West Coast Conference, and Southern Dowsing Conference. Since 1992 she has taught at national conferences including hypnosis conventions and US Psychotronics Assoc. She won seven top national awards in hypnosis including two for Lifetime Achievement, and was named 2018 ASD "Educator of the Year", and 2019 "Special Recognition Award". She founded and directs Central Virginia Dowsers in Charlottesville, runs two excellent ASD monthly teleconferences: 'Dowsing Support' and 'Discover Dowsing' and was a member of the Board of Trustees. Roxanne is author of ten books including two on dowsing.

Roxanne can be reached at Roxanne@RoxanneLouise.com or 434-263-4337.

www.RoxanneLouise.com her blog is UnlimitedPotentialHealingCenter.com.



Sept. 15, 2019 - Energy & The Reflexology Experience II - Thurman Greco have stories to tell.

Everyone can venture down the path to healing: physical, mental, spiritual, emotional. Those who know Thurman Greco, work with her, and study under her, agree that she is passionate about healing workl and Reflexology for the Spirit. That's why the dowsers are excited to have Thurman back by popular demand, to share more healing protocols and techniques using reflexology. Reflexology involves the application of pressure to hands or feet with specific thumb, finger, and hand techniques. During her presentation, you will have an opportunity to experience both giving and receiving foot reflexology. Learn to do

basic

reflexology on yourself, friends and family to

release s

tress,

boost the immune system, or just for fun to relieve achy, tired, overworked feet.

Discover

how

to

identify troubled spots which reveal themselves in your feet. Learn techniques to deal with them when you find them. Receive a set of clearly written and illustrated handouts for future use. This will prepare you to understand and enjoy your upcoming hand reflexology
class. Feel free to bring a pillow, lotion, essential oil, and or a friend to join you in this fun session. Bring your questions. About Thurman: a massage therapist/reflexologist since 1981, has taught reflexology, Reiki, and other healing modalities since the 90's. Thurman has a practice in Woodstock, NY. For more info call: (845) 399-3967. thurmangreco.com http://www.reflexologyforthespirit.com Thurman's book on wellness, "A Healers Handbook," for sale at the meeting for $15.00, offers new information organized so it can be used by reflexology practitioners at all levels. This groundbreaking document deals with the most important aspect of healing: the spirituality of health. She will donate $5.00 of each book sold to M-H Dowsers.


August 25, 2019 - Dowser Picnic -
Saratoga Spa State Park
July 21, 2019 - Adhi Two Owls - "How We Can Use Dowsing for a Better World"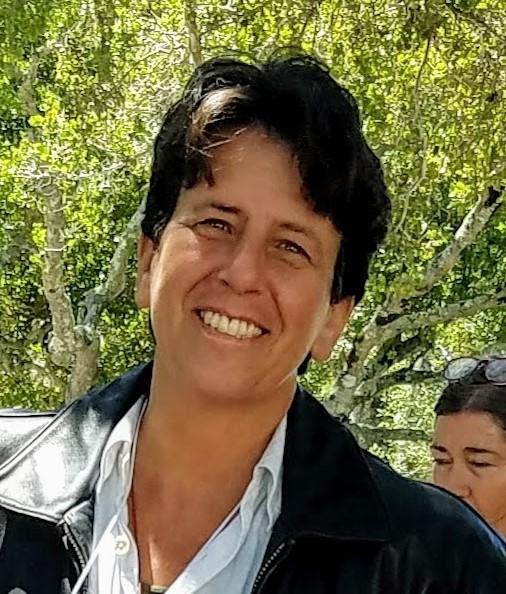 We live in times of change and evolution.The planet is restless and we are creating new technologies. Nothing stands still and progress is part of how all things move forward into the future. Dowsers have a unique set of skills that place them in the forefront… embracing these changes and developing ways to utilize them for the benefit of all. In this lecture Dr. Adhi Two Owls will share her insights and protocols for how we can help the climate and address the new technologies of 5g. From how to grow plants to the transmuting of toxic energies and electromagnetic smog dowsing can offer ways to improve life and health. About: Dr. Adhi Moonien Two Owls is a trained Artist, Shaman and Healer. Adhi has been teaching workshops in shamanism, dowsing
/
radiesthesia,
and
other esoteric healing practices
on a regular basis for many years. She has a broad and deep knowledge in her fields and is an excellent teacher. Adhi designs and invents products to help people navigate the energy patterns in their lives, transmute EMF smog and heal the earth.
June 23, 2019 -
Quantum Dowsing Technique" Presented by Brandon Dey
Quantum Dowsing is based on the dynamic use of reference points and harmonics. Once certain points of reference are established, the dowser can utilize the spin of the pendulum to determine the 'pull' of any object, thought form, etc. In finding which 'direction' a thing resonates from, the dowser can find objects as well as foods that will keep the ascension, or upward moving process going, without adding in things that pull one 'down'. This is a paradigm shift and a step away from the classic yes/no form of dowsing, and methods that change the energies of objects. However, it can be used with other forms of dowsing in order to quantify, with great accuracy, and identify things in their simplest forms, without ever asking a question! Brandon will cover:
Reference points in Quantum Dowsing, how they speed things up and provide a stable ground to dowse on, no matter what the environment; Quantum Dowsing from the perspective of harmony/disharmony; A way of relating to reality to open doors to quantum thought; The difference between linear and nonlinear systems and why both are necessary in dowsing; Developing a Quantum Language that is in harmony with, and can directly access and communicate with the quantum body I AM, within; How Quantum Dowsing can change your perspective and initiate conscious non-linear thinking; The implications of embodying our non-linear Self; The Quantum Catalog, and how to begin setting one up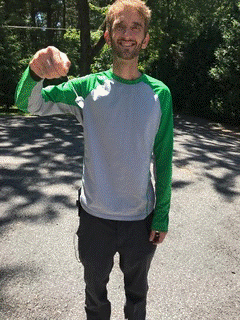 The divine, sacred ego demystified. This is a divine body that requires nurturing if you want reliable results all of the time; The Science of dowsing and how this technique can lead to total Freedom; Dowsing as a 'brand', how it lost credibility, and what we can do to repair it's public image.
About Brandon Dey

: Brandon's first steps towards discovering the Quantum Dowsing Technique began in 2007, when he had honed his pendulum dowsing skills to the point that he believed they ought to be reliable. As a scientific system, He thought dowsing should be 100% dependable. It wasn't. Regardless of his efforts, he was unable to get accurate answers all of the time, which lead him on a serious investigation to discover "why?" Many dowsers suggested it might be a matter of ego. To Brandon, that meant complete Enlightenment would need to precede becoming a great dowser. He wondered if this were true. As is often the case, when the student is ready, the teacher appears. A gentleman named Wiley Brooks explained that true dowsing was more of an identification system than an answer finding system. He taught Brandon his method in 2011 and at last, Brandon received satisfactory answers. Dowsing inaccuracy occurs when one lacks reference points and comes from a strictly linear perspective, demanding answers from the non-linear dimension, within. Reference points are absolutely necessary in this and all scientific systems. His desire is to teach this system to all who want to learn. brandondey@yahoo.com https://www.iamit.love/

May 19, 2019
-
A
Magical Mystery Tour of The Healing Waters of Saratoga Springs with Trent Millett -

Saratoga Spa State Park 1:00 - 4:30pm

Tour with Trent Millet.

The world's finest Spa doctors have declared Saratoga Springs the greatest healing resort on the planet. Come find out why with Trent, the expert on the healing nature of water. Visit the different springs, learn important history and sample and experience the different healing qualities each individual spring has to offer. While drinking the waters was known to help with gastrointestinal problems, bathing was thought to treat heart disease and arthritis. Scientists believed that the bubbles in the mineral water dilated blood vessels and improved a patient's circulation. This is not your home bathing experienc

e.

About Trent Millet:

Saratoga Mineral Water Tours and Education. Called the "Saratoga Water Whisperer" ,"The Saratoga Water Wizard" and The Saratoga Water Witch" (Trent is

vice-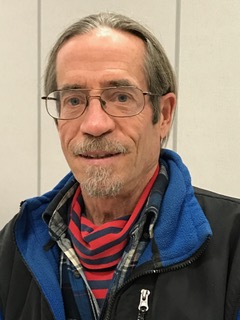 president of the

Mohawk-Hudson Dowsers, hence "water Witch"= dowser) and offers tours and connection that is an Experience rather then just a tour. Trent offers consultations with professional health and medical practitioners on the medical and wellness uses of mineral water and regiments involved. He also serves professionals wishing consultations and connections with the health, wellness and healing practitioners in the Saratoga Springs area. Trent offers presentations, lectures and classes for groups, schools, and centers on all aspects of water including: how to take the cure at the famous Roosevelt Bath and Spa, the remaining therapeutic waters, and continuing research into the medical history and uses of the 7 digestive waters.

He also speaks about

the "Beauty" spring responsible for curing many skin inconsistencies and reversing anemia (the iron in

O

ld

R

ed

S

pring is the molecular pattern of hemoglobin), as well as the CO2 bathing water with over 93% success rate of arthritis effectiveness

and

89% in Gout. Trent's personal experiences with American waters led him to investigate the widespread use of water for medical purposes in Europe, the US and other countries using Western medical systems. He teaches and leads workshops on "Radionics and Conscious Healing", "Awareness and Interconnection", and "Water health and intentional healing." He holds a certificate in Bio-Harmonics and has been presenting at ASD national conventions for years. He gives the best

tours of the Saratoga Springs with a focus on the healing affects of the waters. Trent is the developer of the "Hydro-phonic" bathing system, a system that uses water as a transfer medium for frequencies (sound) resonating at body, organ and cellular levels.

Trent can be reached at (802) 473-2836 and spiritflytrent@yahoo.com


April 28 2019 - How To Find Lost Objects With Dowsing Tools with Leroy Bull

--

Map dowsing is a useful skill for finding lost objects and pets, whether the map is a simple sketch of the floor plan of your house or a map from online or a paper map. It doesn't matter what you use. Our speaker, Leroy Bull, will teach us how to prepare ourselves for this type of information dowsing. We will learn about clearing, timing and focus; letting the answer go, some information dowsing techniques, other techniques to aid in locating the object, and some obstacles to finding the area it represents. About: Leroy is an internationally known Master Dowser, past president of ASD and long time ASD trustee. He has dowsed over 3,300 water wells around the world, as well as over 4,000 earth energies and numerous lost objects, people and natural resources. Leroy has a Bachelor of Science degree in Animal Husbandry and a Master of Science degree in Food Technology. Leroy has been featured in the New York Times newspaper and in Smithsonian Magazine. He is a past keynote speaker at the British Society of Dowsers. He has been to Japan 12 times to locate old buried time capsules. This became a Japanese television two-hour feature show, "The Psychic Investigator". Finding lost objects and map Dowsing brings him great joy and he is looking forward to sharing this with you. Leroy is the author of the book, The Art and Craft of Map Dowsing. He will have copies of the book for sale at the meeting for only $15.00. Leroy is also kindly donating $5.00 from each sale to our chapter. Please bring some extra cash and take advantage of this opportunity. Contact information:

LeroyBull@gmail.com



March 17, 2019 Energy & The Reflexology Experience with Thurman Greco --
As dowsers, we work with unseen forces of energy. With a focus on using reflexology to address health conditions and illnesses, Thurman Greco will share her healing protocols and techniques, and take us on a journey where we will have an opportunity to both receive and give reflexology to one another. Reflexology involves the application of pressure to the feet with specific thumb, finger, and hand techniques. Learn to do reflexology on yourself, friends and family to Fight Stress, Encourage Enthusiasm, and improve Immune System function to resist Infection. Learn to dowse the energy in your feet. You may bring a pillow and your favorite cream or lotion if you wish. Bring your pendulum. We will be dowsing and working on the chakras in our feet. We will also have time for a carpal tunnel exercise, so there is a lot to look forward to. The session is very informal with plenty of time for questions and answers. Receive reflexology charts and instructions.
About: Thurman a massage therapist/reflexologist since 1981, has taught reflexology, Reiki, and other healing modalities since the 90's. Thurman has a practice in Woodstock, NY. she can be reached: (845) 399-3967

thurmangreco.com
http://www.reflexologyforthespirit.com
Thurman wrote a book on wellness, "A Healers Handbook" which will be for sale at the meeting for $15.00. She will donate $5.00 of each book sold to M-H Dowsers.

Tuning Your Body & Energy Field with Sound Waves and Tuning Fork Concert Featuring Scott Hartley - February 17, 2019

Tuning forks were originally used to tune musical instruments because they emanate perfect sine wave sound patterns for fine-tuning instruments to the proper pitch. When you strike a tuning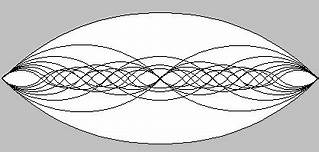 fork, it causes the air around the fork to vibrate, sending out strong vibrating impulses through the air. In energetic healing, they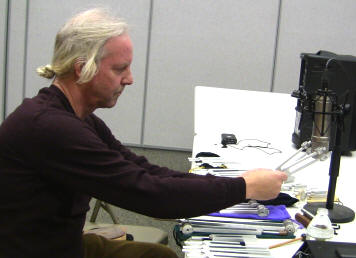 can be used for clearing non-beneficial energies, tuning a person's energy field (also called the biofield), and to increase energy on parts of the body. Plac
ing them around chakras or energy centers along the spine, send impulses to the different organs, stimulating the flow of energy through the organs. Using tuning forks can result in a relaxed state, increased blood flow, enhanced immune response, fully integrating body & mind, and experiencing higher levels of consciousness.
To determine which tuning forks to use, what order to use them, and where to place them -- dowse it! Scott will present basic theory of sound therapy and demonstrate with a tuning fork 'concert'.
You are welcome to bring a yoga mat, should you wish to lay down during the concert. Scott is looking forward t
o answering any questions you may have and giving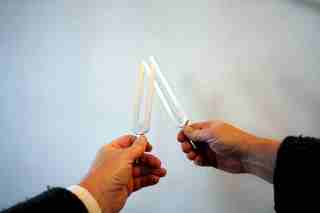 you an opportunity to try out his tuning forks. Scott Hartley studied the use of tuning forks with John
Beaulieu of Biosonics, and uses biosonic tuning forks. The pure and harmonious tones of the tuning forks calm, stimulate, and balance the human biofield. Scott studied physics and philosophy at Rutgers University, and music at Westminster Conservatory. He has a Master's degree in Natural Medicine from Quantum University.

November 18, 2018
-
Quantum Healing, Agartha - Inner Earth and the 5th Dimension - Speaker
Jennifer Galligan
-
We are in a great time of change, when our choices and intentions will impact our destiny in amazing ways that are seemingly magical! This will happen as individuals and as a collective on all planes of existence. Our world will be nothing like it is now, instant manifestation and emerging organic technologies will create a seemingly dreamscape. As dowsers, we know we create our reality through our thoughts, words and intentions. We shift our reality by shifting our perception. What we think matters as much as where we cast it with intention. We are unaltered game changers working alongside prime creator. As a bringer of truth and awakened consciousness, Jennifer Galligan serves as a bridge of knowledge and a foundation for an extraordinary network of people, who are changing reality on a grand scale. Join Jennifer as she shares information about the hidden history of our planet and our galactic past; the secret space program. inner earth, the cities and beings there, who they are and why they are emerging now. What is their message? What is quantum science, what is the Electric Universe and what are the mechanics of manipulating energy into matter and creating our own version of reality? How will it change everything we've ever known and how do we unplug from the old version of reality? We will contemplate ideas about ascension, flat earth, and discuss, "are we truly on earth or just in a projection of it?" Be sure to bring your pendulums so you can dowse the accuracy -- your truth -- of what will be revealed. Learn about the links between the Montauk Project, Antartica, time travel, implants, DNA/genetic tampering, extradimensional, interdimensional and elemental beings; and the conscious and subconscious mind. Jennifer will begin her presentation with the Unity Breath meditation, to help us expand our heart consciousness.

About: Jennifer Galligan was born in July, 1967 amidst the Summer of Love…….which shows in her mission in life. She promotes self-healing, self-responsibility, compassion and service to others, and practicing impeccability to help shift the consciousness of the planet onto a positive timeline. She feels life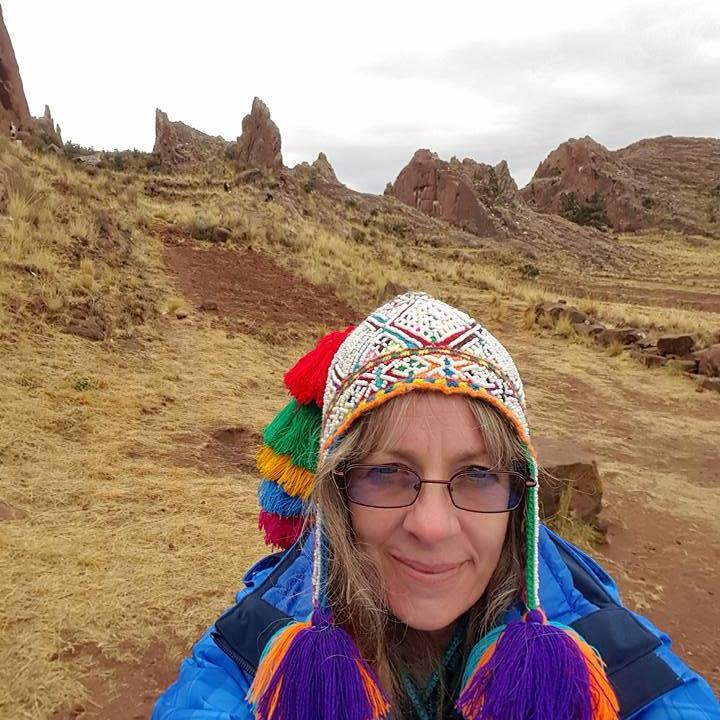 should be fun and we should have good health, with opportunity to experience freedom, unity, and especially love and joy in all things. She knows that evil, fear and scarcity are illusive constructed programs of the mind. A creation by those who wish to control human consciousness for self-serving agendas. Jennifer has researched many topics including healing, using the heart in the creative process; quantum healing devices and technologies coming and some that are here that will carry us into a new age of wellness and longevity. Jennifer can be reached at
healingheartchakra@gmail.com
and (508) 667-2770.
Sept. 16, 2018 - Dowsers Guide to Pendulums and Their Use with
Your Higher Mind, with Cleigh Dalaroche.
Dowsing should be guided by love, empathy, and respect. Learn to use your pendulum to improve yourself, your intuition and things around you. The more you dowse, the more you expand your perceptions and dowsing abilities. Learn how to choose what pendulum to use by looking at its size, shape, structure, material, color and mineralogy. Learn how you can have each spin of the pendulum represent the power of 5+ when necessary. According to Cleigh, there are six kinds of dowsing:
Newtonian - Makes a big effort and struggles

to get results.

Usually a new dowser.

Ptolemaic Water dowsers, who realized the various aspects of "subtle energies". They could trace the different types of energies around them; define beneficial spaces for placing megalith monuments; understood the

relationship of the energy grid of the earth.

Energy

-

Able to trace different types of energies more accurately; define beneficial spaces for placing cities, places of worship, etc.
Synergy Able to influence, utilize and direct through intention, the energies around them in a very dramatic way.
Quantum- Able to influence and impact things at a distance, beyond time and space. Seeing beyond the hologram, utilizing scalar waves, language to activate spirit-brain-mind interface. Those who use a quantum field consciously or intuitively. Used for healing and to pinpoint a problem.

Quantum Unified Field
- You feel everything around you... like empathy on steroids! Experiential vision of reality on a very deep level. Extension of ourselves, an elevated form of Oneness, expands in all directions, working with higher level beings, ascended master.
We each utilize one or a combination of these types of dowsing. You can dowse to expand your dowsing abilities. He will teach us the importance of cleaning up our artifacts, putting things back into balance after dowsing. He will discuss the future of pendulums, new developments, new images, new wave forms creating new and different values. He wants you to ask questions, this will be a very interactive meeting. Meet Cleigh THE most knowledgeable person in the field of Pendulums.

August 19, 2018 - The Zodiac and The 12 Mineral Salts of the Body Isolated Form The Waters of Life, with Laraine Flannery.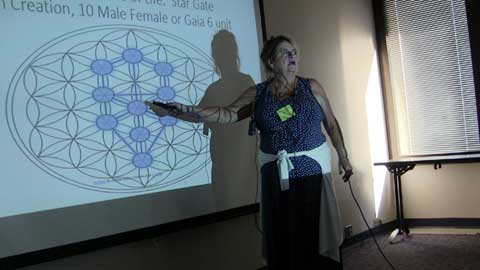 The Relationship of the minerals of the body to the signs of the Zodiac.
Dr. W.H. Shuessler who played a large role in isolating these minerals from the Fountains of Youth in the late 1800's, was a Homeopathic Physician as well as a Biochemist. Along with Dr George Washington Carey this great work was assigned to the Zodiac with the help of Inez Eudora Perry.
This is a wonderful study of Man as a Cosmic Image, learning throughout his evolution to return Nature to his "Divine Nature". These electrolytes are found in our food and water and carried into the blood, where the process of life and by the law of a chemical affinity keep the human form, bodily functions, materialized. When a deficiency occurs by trauma or through a non-assimilation of food, poor action of liver or digestion process start to occur. This is a fascinating study of The Cosmic Man learning to be Divine through the laws of Nature. Come learn the key to physical regeneration and spiritual illumination.

July 17 & 18, 2018 - Field Trip - Sacred Sites in Vermont and New Hampshire. We'll be going onsite to explore several ancient stone structures. We will meet at Dream Barn Hollow (home of Alice Harwood) in Chester, Vermont, Tuesday evening from 4:00pm to dusk. We will be joining the Living Waters Dowsers, chapter of ASD, for their annual open house and pot luck dinner.

The (3) sites we will be going to on Wednesday, July 18:



2. Calendar II Stone Chamber, Vermont - The ancient chamber is on the same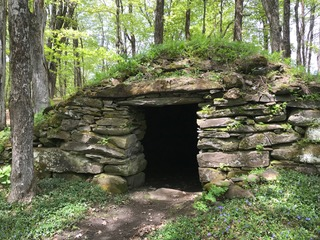 property as Vermont Stonehenge. According to Madis Senner, the chamber sits on a water dome that, in his opinion, formed in response to prayer/ceremony/meditation. A water dome forms when a vertical vein of water attempts to rise to the surface of the earth and form a spring but it is blocked; consequently a dome or pool of water forms. We will be dowsing who, when and why the chamber was built; information about the water dome and any water veins that may be present.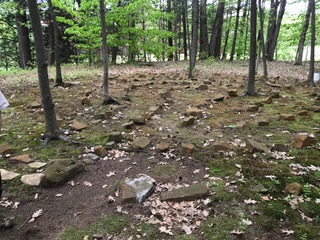 3. The Susquehanna Stone Labyrinth created by Pat Burns. The labyrinth was constructed by Pat on his property in Vermont. You'll have an opportunity to Dowse the types of energies here. I hear that there is nice energy here.

Cost: Suggested donation $50.00 to cover full program/tour, sleeping accomodations at Dream Barn Hollow. RSVP BY: JULY 3RD, We need to know how many people will be making this trip. There will be further email communication regarding departure time, carpooling and a possible caravan. Directions: Contact Pete to RSVP and he will send you exact address and directions to "At Dream Barn Hollow". Cell phone service is spotty around this neck of the woods, however, you can try the barn 802.875.1717 (landline) if you get lost. LINKS & More Info -
Geomancy - Geomancy explores the realm where human consciousness meets and dialogues with the Spirit of the Earth. It empowers the harmonious interaction between person and place, and can enhance spiritual growth. http://www.geomancy.org/

Dream Barn Hollow - This is a spiritual, practical, artistic, creative educational center. It's a place to connect with nature, meet people, and integrate valuable techniques, knowledge and experiences. Located in Southern Vermont, along the Williams River, it provides meeting space, family style accommodations and diverse gardens creating a peaceful and intimate atmosphere. Dream Barn Hollow is located off I 91 on Vermont Rte 11 West, about 20 minutes from the Okemo Resort Areas and about 45 minutes north of Brattleboro VT. It is the home of Alice Harwood, who operates Space Inc., a 501(c)3 non-profit. Contact Alice at 802-875-1717 or email: dreambarnhollow@gmail.com.

June, 2018 -

No Meeting this month. The American Society of Dowsers' Annual Metaphysical Expo and 58th Convention will be June 13-17, 2018 at SUNY (State University of New York), New Paltz Campus. For more info call 845-257-2356 or visit https://dowsers.org/conventions/ or Meet the Speakers.pdf

May 20, 2018 - Getting to Know Your Soul and Be All You Were Meant to Be" -

A full Day Workshop (9am - 5pm) by Mo Wheeler with Rebecca Gurland - Fine tune your dowsing skills. Learn about the type of energy you have in your soul and how that knowledge can help improve your dowsing ability. Knowing the heritage of your soul can open many windows of opportunity: Understanding and appreciating who you are Knowing your strengths and the areas of difficulty on your path Relating to others who are different from you Making choices that further the journey of your soul through time Learn about the origins of the 12 energy heritage types and how this history affects your life today, both as a dowser and an individual.This workshop will be experiential and fun. Get to know yourself in ways you never thought possible! Cost: We are asking for donations to help offset the expense of food and two nights lodging for our guest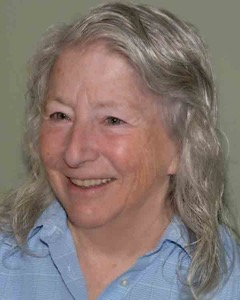 speakers. About Mary ("Mo") Wheeler, Ph.D - Founder of the nonprofit, Energy Healing Partners, Inc. she is a retired psychologist and university professor. In 2001 Mo turned sixty, was gifted with a powerful and unique energy and became an ordained minister. Her approach to improving the world uses energy-based modalities and dowsing to co-create with her team of volunteers and with higher powers that can neither be seen nor verified. Mo brings important concepts and new information in the spiritual dimension as well as her gift of spontaneous channeled sounds to amplify and support healing. She has published Creative Energy Therapy: The Lightworkers Guide to Energy Healing (2003), What's Going On? Maintaining the Energy of YourEnergy Field (2015), Dowsing for the New Paradigm (2017), and is currently working on an updated version of Doorways: reclaiming the Strengths of Your Energy Heritage (2014). http://healingforearth.com/downloads-learning/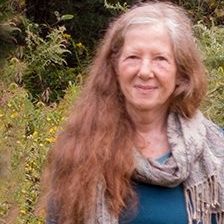 About Rebecca Gurland - President of Energy Healing Partners, she has been working with Mo for thirteen years. Rebecca teaches Mo's Creative Energy Therapy, Donna Eden's Energy Medicine, dowsing, kinesiology, vision training, healthful cooking, and energy psychology. She is a Reiki master, and assists authors to self-publish at her company, "See Your Book in Print." Rebecca is the author of Vegan Flair, Envision Better Eyesight: Self Help to Improve Your Vision, and Healing Intentions for Earth (for information: www.energyconscious.org. To contact Rebecca: rebecca@energyconscious.org

April 22, 2018 - Water Dowsing and Well Drilling"- Alex Keyser with Bill Getz - Alex is a fourth generation well driller and seventh generation blast hole driller. He operates Claverack Pump Service, has 16 employees and uses modern equipment and technologies. He takes pride in his modern equipment and the ability to operate in a very ecologically safe manner. He serves Eastern NY, Western Mass., and Northern Conn.. He will share thoughts on the opinions of well drillers and dowsing, meeting Bill Getz, learning how to incorporate dowsing into modern drilling techniques. He will discuss water well development; techniques used, processes involved, and the science behind how to decide when to use them and when to stop drilling. He will share several interesting success stories showing how he was successful in finding water in some very difficult conditions. He and Bill will be able to answer any and all questions with their many years of knowledge and experience.

March 18, 2018 Clearing Land, Home, and Gardens with Dan Arseneau - Dan earned psychology degrees from McGill University and the University of New Haven, where he discovered that academics have a limited understanding of human behavior. He was a teacher in higher education, an army combat veteran, and a human resources executive in healthcare.



SUBJECT: Land carries and holds energetic memory, some natural, some man made. A portion of this energy isn't beneficial to humans; it can cause or contribute to many chronic health conditions and can be physically and energetically toxic.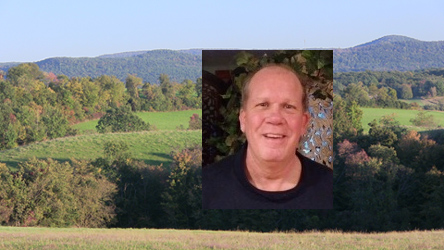 Dan will present a dowsing protocol he uses to clear, balance and neutralize homes, land, gardens,(and people) of non-beneficial energy, entities, thought forms, geopathic energy lines, EMF, portals, trapped emotions, energy cords and more. This is a 'how to' workshop that you can use with your own dowsing skills to clear and transform your own property. He will also show you some of the tools and devices he uses in clearing; many are home made DIY. He will also provide information on working with and co-creating with your land Elements to transform and raise the vibration of your landscape, gardens, property and everyone on it.Why not ask for advice and assistance from your own experts,your own Elementals. The fun really begins when you ask them what they want! While based in dowsing, this information also touches on aspects of geomancy, feng shui, and the shamanistic traditions. However we label them, it's all the same energy and vibration. In addition to his dowsing practice he is a Marconics Level IV Quantum Recalibration Practitioner, uses Emotion Code, and teaches day long seminars/individual Human Design readings. He has presented at Dream Barn Hollow, at the Living Water Chapter and at the Annual Convention.

January 21, 2018: "Dowsing for Intention & use of Intentional Devices" - An Interactive Playshop led by Trent Millet -
Connecting intention with dowsing ability and tools, Trent will do a short introduction on intentional dowsing, devices, and the affect focused intent has on dowsing results. Then we will play with intentional devices and waters ability to react to and display the result of sending focused intention. You'll be able to "see" the difference changing focus and definition of intention makes. How much power one intends and its effectiveness can also be developed. You will respect and be delighted by your own power to affect the physical material world. Bring your dowsing tools, any intentional devices, and any "intentional" stories you wish to share with all. For example: How have you used intention for clearing, healing, setting a pattern or atmosphere? How do you set future intentions and use tools and/or devices to do so? Where does intention fit into every day actions and how does intention affect simple acts when it is added to the action? Let us explore, play with reaction and intention and "tweak" it up to a more refined definition and level of effectiveness.
About Aime "Trent" Millet: A dowser and President of the Mohawk-Hudson Dowsers, Trent holds a certificate in Bio-Harmonics and has presented at American Society of Dowsers national conventions. He teaches and leads workshops on "Radionics and Conscious Healing", has "Awareness and Interconnection", and "Water health and intentional healing." He gives tours of the Saratoga Springs with a focus on the healing affects of the waters. Trent is the developer of the "Hydro-phonic" bathing system, a system that uses water as a transfer medium for frequencies (sound) resonating at body, organ and cellular levels. Trent can be reached at (802) 473-2836 and
spiritflytrent@yahoo.com
More Highlights From Past Meetings
February 10-13, 2014: Roosevelt Bath & Spa
Roosevelt Bath & Spa is offering 40 minute baths on Monday, Feb. 10 - 13th from 9 a.m. to 5:00 p.m. for the discounted price of only $20!! (Regular price is $35.)
This is being offered to our group of Dowsers, thanks to Trent Millet, our president. Special Discount For Mohawk-Hudson Dowser Members ONLY!
While bathing in it your heart goes into a state of relaxation while blood flow to the body is increased due to expansion of veins, arteries and capillaries (vascular dilation). Blood pressure equalizes to normal and 3 to 5 times the normal amount of carbon dioxide is removed from your body. The Natural lithium so necessary for brain and immune function is being absorbed as is a very body compatible iron. The experience of skin softening and restoration is due to the natural silica. By the medical records Roosevelt bath has a 93.9% success in rheumatoid arthritis, 93.1% in osteoarthritis and an 89% success rate in Gout!. This is not your home bathing experience. Take advantage of this opportunity.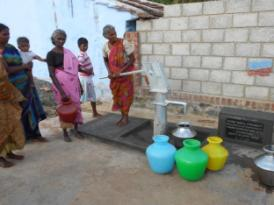 July 4, 2012 Brett Wentworth Memorial Celebration!!
We have fully funded a well for The Brett Wentworth Memorial, through Water For Humanity. We are in the process of choosing a project/location in India. To celebrate The Conary's hosted a great Pot Luck Picnic on July 4th
"

Raising Energy in Water & Food" with Diane Anderson. May 15, 2011
Using Techniques Learned from Raymond Grace and Susan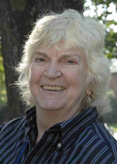 Collins
Learn how to measure energy with a pendulum & chart; how to clear non-beneficial energy; explore ways of transforming energy into beneficial energy: Measuring new level of energy; and putting intention in water and food... This will be an interactive presentation. Please bring a bottle of water from any source, and also bring a pendulum. Each person will be given a simple chart. Each person will be dowsing their own bottle of water, and if time allows, a food sample from our refreshments. About Diane Anderson: Diane is a retired clinical social worker and educator. Her first experience with dowsing was almost 30 years ago, when a water dowser came to her Catskill property. She has had a casual interest in dowsing for years, but didn't realize the vast potential of dowsing. Four years ago, she started taking courses at an ASD convention and joined the Mohawk-Hudson Dowsers Chapter. She can be reached at (845) 679-6401 or dianabelle3@aol.com

"Dowsing for Health" Presentation by Loren Lillis. April 17, 2011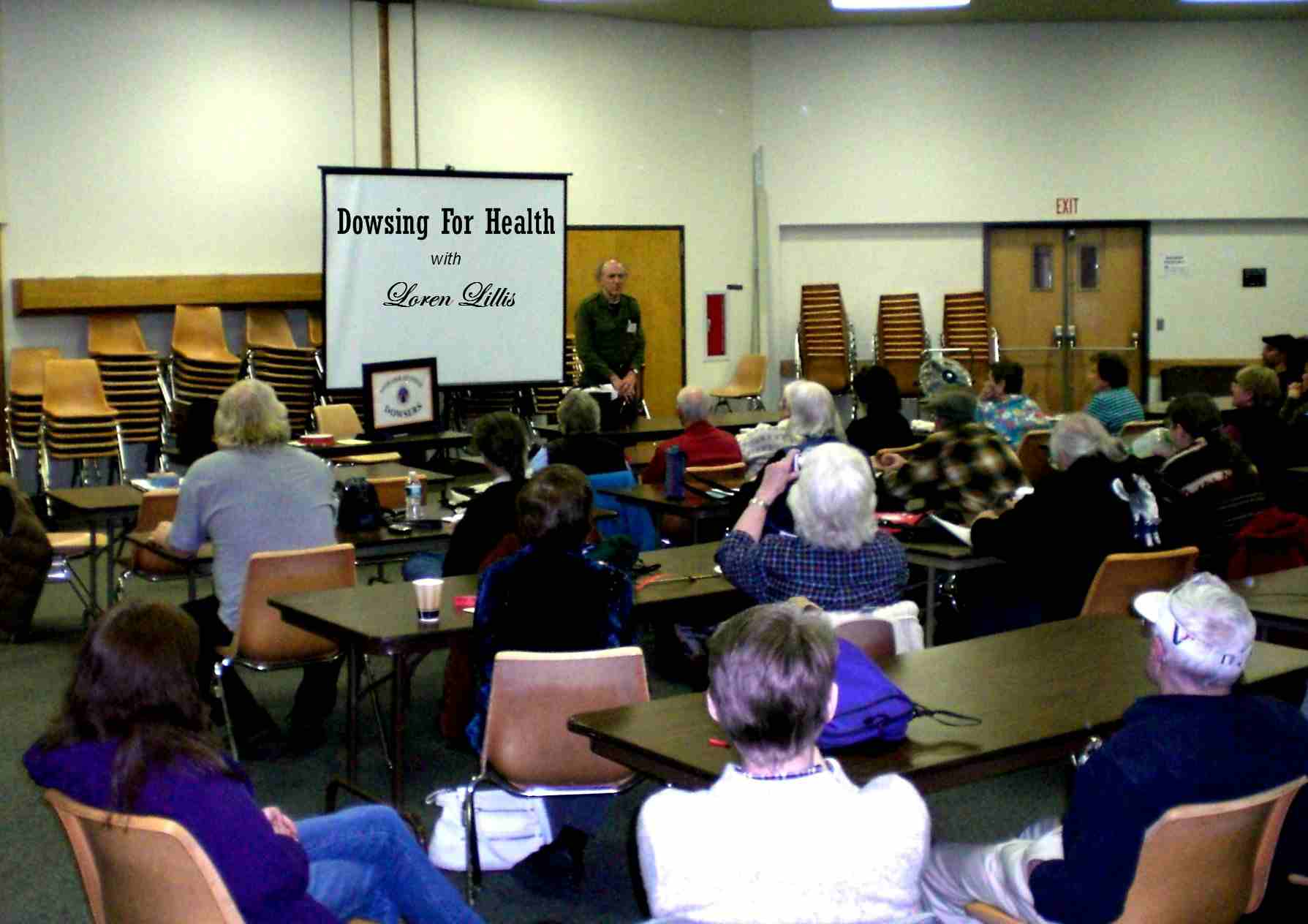 If there is anyone in the capital region that has a working knowledge of the latest developments in holistic/alternative health care, it is Loren Lillis. With an extensive knowledge of vibrational medicine, and his mastery of dowsing, he is a modest man who has learned the art of creating health, though he'll never admit it. After conventional doctors were ineffective, he sought out a doctor on the cutting edge, became the doctors student, and healed himself by taking the holistic approach he now promotes. Loren takes the science of healing to a higher level. We are fortunate to have him speak to us, and explain how dowsing can be a great tool for obtaining information and improving ones health. Loren is a "full service" health educator promoting health through the restoration of biofield coherence. He uses a variety of bioenergetic evaluation methods borrowed from such systems as Field Control Therapy, Esogetic Colorpuncture, 3D Energetics,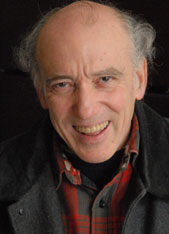 Psychosomatic Energetics, and Healers Who Share. His recommendations involve such things as nutrition, herbs, homeopathics, quantum essences, pulsed magnetic fields, and color therapy. He has a B.S. in Chemistry from RPI (1970), and a M.A. in History of Technology from the University of Delaware. In the 1980's he did graduate work in Resource Development at Michigan State University and he received an Associates Degree in Medical Laboratory Technology from Hudson Valley in the mid 90s. Currently, Loren is a student in the Naturopathic Physician program with Westbrook University. He can be reached at ushrsa@yahoo.com
Meeting Hosted in the Home of and by Maryjane Cleary, who gave free star messages to all who wished to receive their crystal stars. She offered it freely as a wonderful gift. Much Discussion on The Brett Wentworth Memorial Fund and the future of the MH Dowsers. May 6, 2012

"Dowsing For A Needed Water Source for The Studio". Meeting at Elizabeth Conant and her son Elihu Conant-Haque's property in Greenfield Center, we dowsed the best site for the well and for the depth and flow rate of the water. Sept. 18, 2011

"Energy Medicine" - Ruth Ann Smalley -
Oct 23, 2011
Energy Medicine teaches you how to work with your body's natural intelligence for greater balance and well-being. It comes with a complete toolbox of easy self-care techniques to use when life throws you off kilter, or when you simply want to build resilience and enhance your performance. Based on healing traditions such as Chinese Medicine and Ayurveda, Energy Medicine works with the meridians, the acupressure points, the chakras, and other energetic systems through fun, user-friendly methods. Ruth Ann will introduce some fundamental concepts, using audience demonstrations that help us understand and enhance our energies. Along with gaining a deeper appreciation for how our energy works, you will take home several daily practices to support energetic health. About Ruth Ann: Ruth Ann Smalley, Ph.D., is a seasoned educator with over twenty years of classroom and one-to-one teaching experience. Certified as an Eden Energy Medicine Practitioner in 2007, her holistic health education practice, Vibrant Energies, is located in Albany, NY. As an authorized instructor of Energy Medicine for Women, Ruth Ann offers women's wellness classes, as well as individual Energy Tracker sessions, private instruction, regular classes, special topic workshops, and retreats. She is the author of a children's picture book about simple, green living, called "Sheila Says We're Weird", which is now available from Tilbury House Publishers. Ruthann can be reached at
ruthsmalley@gmail.com
www.vibrant-energies.com
Meeting Location:

Cornell University Cooperative Extension Headquarters Bldg
50 West High Street, Ballston Spa, NY 12020
Directions: From I-87 take exit 12 (Route 67 West) into the center of Ballston Spa, then turn left (still route 67) onto West High Street. The modern style building is a couple of blocks down on your right.
"Vibrational Dowsing: Tools, Usage, and You" with Suzanne Rancourt, Dowser and Drum Maker.
November 20, 2011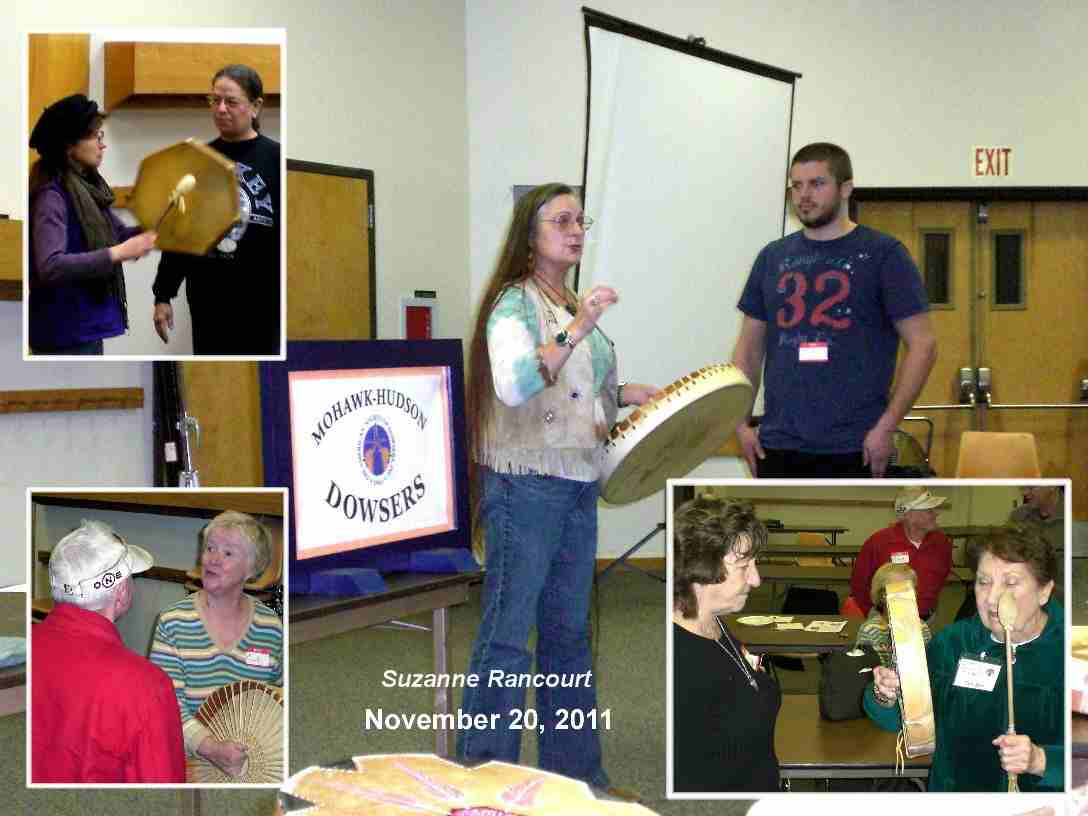 Indigenous peoples have had an understanding of "vibrational" principle since the dawn of human existence. Fellow creatures of the Earth have had a relationship with vibration for even longer and studies conclude that plants too respond to vibration. The drum is a vibrational instrument used traditionally and contemporarily for music, in particular, music that can bring wellness of "body, mind, and spirit." In our 2 hour participatory Dowsers meeting, Suzanne will offer her perspective and methods of using the drum as a "vibrational dowsing" tool. This is NOT a certification, CEU class etc. in any form. It is an introduction to a culture specific practice. About Suzanne: Suzanne, who began making drums over 20 years ago, has also studied folkloric dance in Santiago, Cuba. She was born and raised in West Central Maine, is Abenaki, Bear Clan, and comes from a family of "old time" dowsers. Sharing stories of childhood, and now, Suzanne touches upon "old time" dowsing ethics, alternative wellness ethics, methods, practices, and more. Meeting at the Co-Op Extension property at 50 West High Street, Ballston Spa, NY. 1pm - 4pm
Dowsing is an art that can be learned and experienced by all, if willing. It expands beyond physical perceptive abilities and three dimensional limitations. The human being has both the physical vehicle needed in Nature and the sensory system to dowse. Dowsing, a practice utilized by our ancestors, is helpful for detecting all kinds of information and what humanity has forgotten.
"Edgar Cayce" Presentation by Bill Getz. - March 20, 2011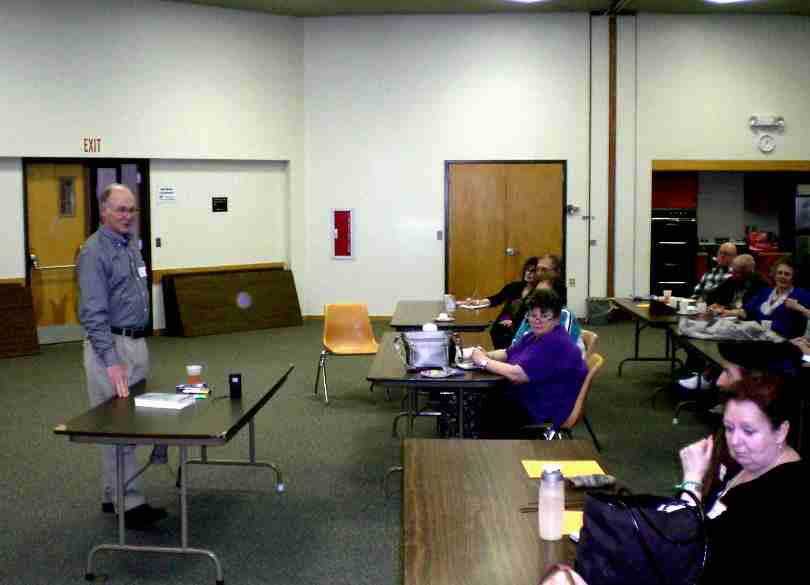 Bill, a professional water dowser, has been successfully dowsing water wells for 50+ years. He is a chapter member, a member of ASD, and a frequent speaker at ASD Conventions. He also explores energy anomalies and reportedly haunted sites for the presence of entities. He discovered the Readings of Edgar Cayce and has applied those spiritual concepts in his daily life ever since. Edgar Cayce' s A.R.E. Bill can be reached at (518) 872-2029 or (518) 522-9149 cell or bgetzideal@aol.com www.getzgoodwater.com

- Feb 13, 2011 Meeting Canceled -

- No Meeting in January 2011 -

End of Year Party. December 5, 2010 -
This annual event was at the home of Barbara and Bob Conary. Barbara and Bob graciously hosted this year's party.
Simple Lessons In Self Care. October 17, 2010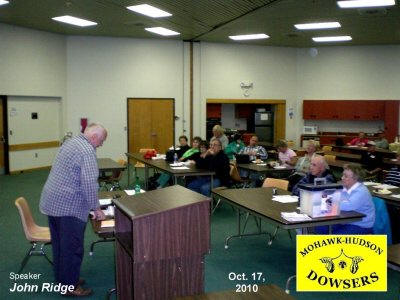 A
mini-seminar by chapter member, John Ridge, who explained pure and unadulterated Chiropractic; How Chiropractic is related to dowsing, Why Chiropractic belongs to the masses, and How millions of sensitive people can quickly and easily learn to do the vital work. JOHN F. RIDGE, D.C. (Palmer School of Chiropractic 1960).
"The Physical Laws & Theories behind Dowsing." October 17, 2010
Douglas Dean described how basic physical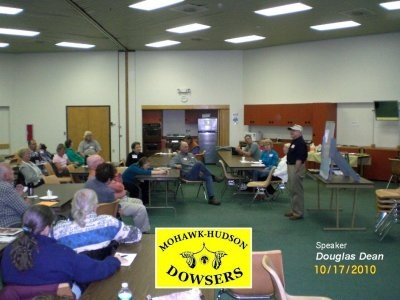 laws, theories and concepts may be viewed in a different perspective when applied to dowsing. He also demonstrated a new dowsing device he invented. Doug was born and raised in a small farming community in eastern NY. His family owned a large dairy farm and a farm equipment business. He was involved with the operation and repair of tractors, trucks and other farm furniture from a very young age. In his teens, Doug became captivated with anything electric or electronic. For his College days, he chose Industrial Management which is Chemistry, Physics, Math with some accounting and economics thrown in. He became interested in unexplained physical phenomena when he began designing digital transmission systems. Doug Dean can be reached by calling: (518) 697-0239 or doug1248@gmail.com
Important Business Meeting -- We Need New Leaders." Sept. 19, 2010. We discussed leadership roles of our Chapter, as we head into the year 2011, and reviewed the overall responsibilities of office holders as it is at present. We considered and discussed possible changes without compromising our goal to promote the art of Dowsing. A request for members to consider helping out in some manner was made so that we could continue this tradition. Dowsing Practice at 12:30 pm. Business meeting at 1:00 p.m. 'til 4:00 p.m.


Saratoga Springs Spa and Bathhouses Field Trip, May 23, 2010
We investigated interesting dowsing anomalies; vortexes, energy alignments, plus an excellent water vein, all conveniently located at the Old Bathhouse area of the Park. Rows of uniformly disfigured trees attest to the physical effects of these 'earth energies,' and experienced Chapter members have traced these energy lines for up to a half mile. Several member's L-rods were sent spinning continuously by these energy emissions, and Member Lois Ahl has mentioned Ley lines existent in the Park, and referenced the work "The Gaia Matrix," by Peter Champaux, as a good source for study (his website
http://www.geometryofplace.com
Developing Your Life Force with Qigong, March 21, 2010.
Ed Hubble gave a class on the basic concepts of Qigong, an ancient body-mind practice for cultivating our natural energy. Ed went through various positions and intentions showing us how to re-energize the body and spirit, for both immediate and long term benefits. Dowser, Karl Kolsbun, assisted by dowsing and measuring the energy fields, so we could see the effect our minds, positions and movements had on our energy. About Ed Hubbell is a dowser and member of the local Mohawk Hudson Dowsers. He is a NCCAOM Board Certified in Acupuncture (Dipl. Ac. NCCAOM), Oriental Medicine (Dipl. O.M. NCCAOM) and Chinese Herbology (Dipl. C.H. NCCAOM). He received his Masters Degree in Oriental Medicine from the Southwest Acupuncture College in Boulder, Colorado. His vast array of healing arts training includes Cranial Sacral Therapy, National Certified Fitness Instructor ISSA; Additional Chinese Herbal medicine training with Craig Mitchell and Bob Flaws. Ed received his BS in Psychology from Washington College and served as a Marine Corps Officer. Ed Hubble can be contacted at 518-538-5454 or ed@fusionhealingarts.com website: www.fusionhealingarts.com. About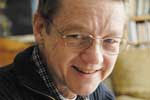 Karl Kolsbun is a dowser and member of the local Mohawk Hudson Dowsers. He is a Certified Intuitive Spiritual Counselor, Clairvoyant, Certified Teacher and Healer. Karl is also working in partnership with the Arcturian Council, and has developed the Galactic Healing Lens -- A 5th Dimensional healing device for transformation. Karl Kolsbun can be reached at (518) 377-4916 or omlightkarl@gmail.com
Chinese Medicine and the Role of Classical Feng Shui -Feb. 28, 2010
Mary Chamberlain spoke to us about FENG SHUI, one of the eight limbs of Chinese medicine which all work together to create good health. Feng Shui is used to evaluate, remedy and promote influences that affect health, relationships and prosperity. A calm, balanced environment helps us to rest, relax, and restore our vital energies – it helps us to heal! Mary Chamberlain is a member of the local Mohawk Hudson Dowsers, has a Masters in Oriental Medicine and is a Licensed Acupuncturist and Board Certified Herbalist. From Oriental Medicine to Feng Shui to Dowsing there is so much ancient wisdom inherent in the Healing Arts. Contact: Mary Chamberlain, MS, LAc. at 518-798-8899.
Dowsers train themselves to sense, see, or feel the naturally occurring energies that everything on this planet (including us) are made of. Dowsing is a tool anyone can use to explore truth and changes in life, effect change and create a better world. We invite anybody interested in dowsing and topics we focus our efforts on to join us!

Additional Meeting Locations: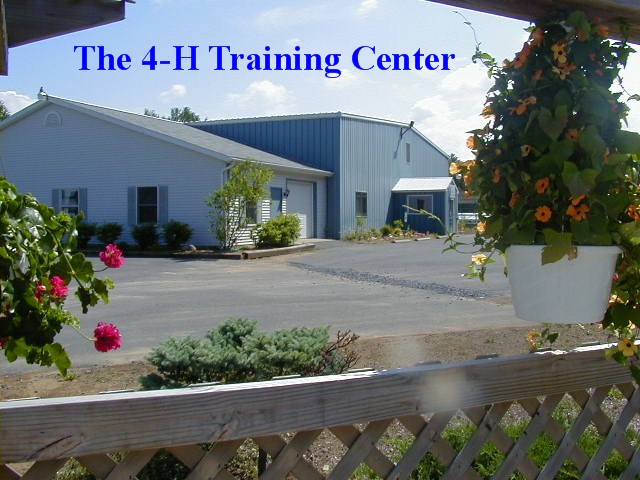 Cornell University Cooperative Ext.
4-H Training Center
556 Middle Line Road
½ Mile North of NYS Rt. 67 and 4 miles South of NYS Rt. 29.

Saratoga Springs Public Library, In the H. Dutcher Community Room, 49 Henry Street, Saratoga Springs, New York 12866
Dowsing is not just about finding water. It's about finding yourself
and connecting with your heart.
Home | About | Services | Calendar | Photo Gallery | Links | Join | Contact